About Us
ISO Certified
In order to ensure the Quality of our processes, methodology and procedures for providing Services, eProcure.AR has certified ISO 9001:2008.

Here is the detailed process scope certified: "software design and development, technical and functional consulting services and e-procurement & e-sourcing it solutions implementation"

eProcure.AR is the only company in the region certified on these particular process.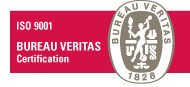 COPYRIGHT © 2011. EPROCURE.AR - ALL RIGHT RESERVED.